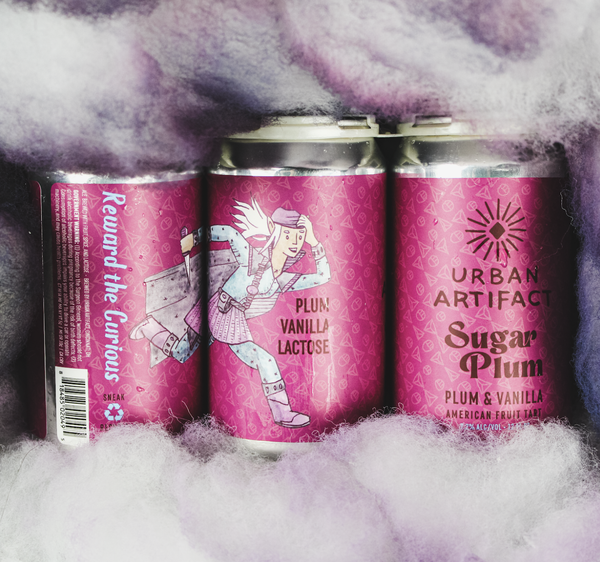 This American Fruit Tart is packed with plums and vanilla - the most vanilla we've ever put in a can!

Sugar Plum is an Elven Rogue with a specialty in Arcane Tricks. You may know her from a spotlight-stealing plot during a popular ballet; dance is her favorite way to get into the holiday spirit. She's the member of your adventure party that will show up when you least expect it, carrying the most incredible gifts and treats - likely stolen from the world's most infamous museums and collectors - just when you need it most.
Infinitely sneaky and carrying a dark past, Sugar Plum has now found an outlet for her creativity with an incredible band of misfits to help focus her energy towards good (for now).
7.2% alc/vol
3.3 pH
6-pack of 12 oz cans
Shipping Information
OH & KY
≥ $115 | Free shipping
$60—$114.99 | $10 flat rate 
< $60 | Carrier Rate

DC, ND, NE, NH, VA, VT
≥ $125 | Free shipping
$70—$124.99 | $20 flat rate
< $70 | Carrier Rate
OR
≥ $155 | Free shipping
$100—$154.99 | $30 flat rate
< $100 | Carrier Rate

Shipping FAQ
How quickly will my Fruit Tarts ship, and how long will delivery take?
We usually ship orders within 1 business day. During releases, when a large amount of orders will come in, we try to get all orders out within 2 business days. Delivery largely depends on UPS, but generally no more than 3 days depending how far you are from Cincinnati.

Why didn't I receive the Fruit Tarts and merch that I ordered?
We ship the alcohol and merch separately, sometimes one package will take a little while longer to arrive.

Something is missing from my order, can you please help?
Yes! Reach out directly to our team at orders@artifactbeer.com with your order number and a list of missing items, and we'll send them to you right away. We try not to let this happen, but it occasionally does, especially when we are busy.

One of my cans/bottles is broken. What should I do?
Please send a picture of the broken item(s) along with your order number to orders@artifactbeer.com. Our team will send you a replacement right away.

What's your return policy?
We do not accept returns of alcoholic beverages; all purchases are final. Fruit Tarts are perishable, so once you purchase it, it's yours.

We do accept returns on select merch items. If you need to return or exchange a non-perishable merch item, please email orders@artifactbeer.com.

Why is shipping so expensive?
Our Fruit Tarts are liquid, so they can be really heavy! We don't make any money from shipping prices—depending on your order size, we might actually lose money on shipping. We do aim to keep shipping costs as reasonable as we can, but they're largely dependent on current UPS rates. The best way to get the most value is by reaching the free shipping tier for your zone (listed above).

KY has a higher tax rate than other states we ship to: KY has a 6% sales tax, but charge an additional 7.35% wholesale tax on beer and wine due to the bourbon lobby. As a result, we are legally required to charge a 13.35% tax. This is not something we can control and we apologize if this causes any frustration. Reach out to your state representatives and let them know you'd like that to change.

Why is my state not listed?
If you live in the following states, contact your congressional representative if you ever want our Fruit Tarts shipped to your door because your current laws will not allow it:
AS, AL, AZ, AR, CA, CO, DE, FL, FM, GA, GU, HI, IA, ID, IL, IN, KS, LA, ME, MH, MD, MA, MI, MN, MS, MO, MT, NV, NJ, NM, NY, NC, MP, ND, OK, PW, PR, RI, SC, SD, TN, TX, UT, VI, WA, WV, WI, WY

Any other questions, comments, issues, or concerns, please reach out to us at orders@artifactbeer.com
Fruit Tart Finder
Find Urban Artifact at a retailer near you